Sports Massages in Haywards Heath
We often say that as a therapy, sports massage as a title is highly deceiving as fundamentally you don't need to be playing sport or to have a sports injury to have a sports massage. When we compare sports massage to general massage there are a few key differences, the main one is pressure. Generally speaking, a sports massage is focussed on working on the muscles to elicit change which often involves increased pressure. If we compare this to general massage the pressure will be slightly less as the focus is on relaxing the muscles and you! Sports massage is also great for those muscular niggles that could come from working from home at the dining room table or from hitting the gym. All in all, it is a treatment for all that is specific to your needs.

Tina Towler
Sports Massage Therapist
Tina has been a sports massage therapist and biomechanics coach for 12 years. She is a Personal Trainer (PT) who specialised in phase 4 cardiac rehabilitation for 10 years in association with the BACR. Tina's motivation to do sports massage in 2007 was to help sporty, active children, (young cricketers at the time,) as Tina felt they needed care, guidance, tips and tools to be able to help look after their young, growing bodies to give them the best chance of reaching their full potential.
Tina loves treating others to help people to feel better, less stressed and achieve positive outcomes. The human body is an incredible but complicated machine. It fascinates her and she is therefore constantly learning, she loves it!
Note from Tina: "I may be rather vertically challenged but do not let my size fool you! They don't call me the 'pocket rocket' for nothing…"

Dani Lewis
Sports Massage Therapist
Dani qualified in 2017 having trained at the London School of Sports Massage and is also a qualified Personal Trainer, so she knows a thing or two about the human body. She also has experience working in a sedentary office job, so she knows first-hand how Sports Massage can really help those tight hips, lower back, neck and shoulders caused by the day job!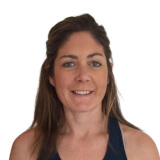 Georgie Brookes
Sports Massage Therapist
Georgie graduated from St Mary's University with a degree in Sports Rehabilitation in 2008. With over a decade of experience Georgie has worked in a variety of settings including gyms, multidisciplinary clinics, and with professional sports teams. This involves helping people suffering from pain and injury with the musculoskeletal system through exercise rehabilitation, movement education, and manual therapy.
Georgie immersed herself in the Pilates matwork training for a year with Pilates Foundation in 2009, and another year in the Apparatus in 2012. Then specialising in Pre and Postnatal Pilates too. With a large number of patients needing more than hands on treatment she finds using Pilates exercises a great way of helping individuals return to their sport or goal. Georgie was the Pilates instructor for Harlequins for two seasons where she worked alongside the medical team to help players return to rugby after injury.
Georgie has a particular love of all things active and is a keen runner, sea swimmer, and netball player. She is passionate about getting you back to your sport or hobby whatever it may be. She has undergone an additional diploma in the John Gibbons Bodymaster Method which has deepened her understanding of the body. And regularly uses the methods taught such as Kinesiology taping, Muscle Energy Techniques, Advance Soft Tissue Techniques, and Dry Needling.
Since having three children her drive has grown to help women in the postnatal period. To educate women on their pelvic floor, diastasis separation (if it has occurred) and the importance of building core strength back up again to cope with the demands children throw at you! With a number of friends having c sections, and the questions that came with it Georgie's interest grew in how to help c section scars. She started with Emma Holly's Introduction to ScarWork and the results were so fantastic that Georgie went on to become part of the first group of therapists to be trained as C-Section Scar Specialists with Restore Scar Therapy.
Claire Jonas
Sports Massage Therapist
You might recognise Claire as she also works as part of the reception team at the Health Hub. Throughout her career and personal life, her passion has always been customer service, caring about people, and health matters. Claire has always really focused on this, and this comes out if she is your Massage Therapist.
Claire has a deep-rooted love of sports, watching and joining in. In her younger days, she was a fitness instructor and competitive swimmer. She now enjoys open-water swimming, the gym, yoga and cycling.
"Our body's fitness and wellbeing give us the greatest key to happiness and fulfilment. It is our only "true home", and so looking after it is paramount".
Claire is qualified with the Federation of Holistic Therapists (FHT) to give Deep Tissue Sports Massage, relaxing full body massage or a combination of the two. Her mission will be to give you and your body a personalised and beneficial massage. Her aim: to make you feel "at home".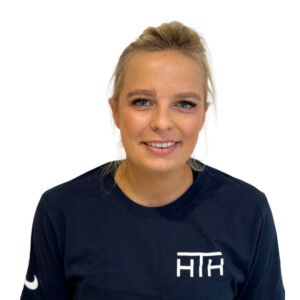 Laura Ellis
Sports Massage Therapist
Laura retrained as a Sports Therapist in 2020 after having enough of corporate life and hasn't looked back since! She has a level 4 sporting injury and massaged diploma and continualy works on upskilling herself so stay tuned for what's next.
Her favourite part of the job is problem solving and helping her clients achieve their physical goals, as well as improving their general health. Laura truly believes that no one's body is the same and not one size fits all.
In Laura's spare time she is mainly found in the gym, she believes her love for keeping fit and healthy really helps her in her role as a therapist.
Keep up to date with our latest news.
Read what our patients have to say.
Such a pleasant experience all round. A friendly and relaxed atmosphere and Lachlan has helped me so much during our appointments! Thank you doesn't seem enough to express my gratitude 🙂
As soon as you arrive you get warm welcomed by the reception staff. Lachlan is an brilliant osteopath and he always make you feel welcome and puts you at ease and informs you what he is going to do He always seems to sort out my back I would highly recommended him Ian smith
I have been receiving excellent treatment on my frozen shoulder. Jodie and all staff are amazing. Miracle workers!!! Thank you very much
The team at the Health Hub are great! I'm having ongoing treatment with Kirk for an ankle injury I've now had surgery on. He was able to refer me to a great surgeon and supported me the whole way through that process. Since having surgery he has helped me with my rehab and created a tailored plan for my personal needs/goals. I've also had treatment with Tina and Sam who were equally brilliant. There's a running theme with everyone at the Health Hub; they take time to listen to you about your injury/issue and help you to get back to whatever it is that you want to do! I couldn't recommend the Health Hub enough!
I saw Kirk today regarding a very painful ankle. I found him to be very professional and has a very kind manner. I trust him to help me back to walking properly again soon.
Both myself and my son have been treated here, at the Health Hub. The staff are helpful and really friendly and the decor/ambience calming and professional. We have been treated by both Sam and Kirk – and both have been extremely helpful and knowledgeable, but also flexible and understanding. Kirk's physio has helped me to make huge progress and reduce daily discomfort/increase flexibility. He has a lovely manner and goes out of his way to put you at ease and help you to progress. I would thoroughly recommend the Health Hub.
I've been recommending Sam for years as he has done so much for my mobility. The Health Hub is a very welcoming environment and I enjoy my chats with Maggie – seem to learn something every time! With Covid-19 they are very thorough with their cleansing and wearing of PPE, so patients should feel very safe.
It is due to a number of practitioners, now at the Health Hub, that my recovery from a serious injury was the successful. I cannot praise Jodie and Tina enough for their knowledge, advice and support in 2018, which expedited my recovery giving me the opportunityto continue pursuing my sporting hobbies. I am so thankful they continue to deliver their skills from a new base, which houses the best professionals in the area. I have often joked with Sam that I need a sports top saying 'This body has been rebuilt and regularly serviced by The Health Hub'.
Absolutely brilliant after having loads of treatment via the NHS that failed Sam sorted my shoulder out in very few visits. I would and do recommend this practise to all my friends.