Tina Towler
Sports Massage Therapist
Tina has been a sports massage therapist and biomechanics coach for 12 years. She is a Personal Trainer (PT) who specialised in phase 4 cardiac rehabilitation for 10 years in association with the BACR. Tina's motivation to do sports massage in 2007 was to help sporty, active children, (young cricketers at the time,) as Tina felt they needed care, guidance, tips and tools to be able to help look after their young, growing bodies to give them the best chance of reaching their full potential.
Tina loves treating to help people feel better, less stressed and achieve positive outcomes. The human body is an incredible but complicated machine. It fascinates her and she is therefore constantly learning, she loves it!
Note from Tina: "I may be rather vertically challenged but do not let my size fool you! They don't call me the 'pocket rocket' for nothing…"

Dani Lewis
Sports Massage Therapist
Dani qualified in 2017 having trained at the London School of Sports Massage and is also a qualified Personal Trainer, so she knows a thing or two about the human body. She also has experience of working in a sedentary office job, so she knows first-hand how Sports Massage can really help those tight hips, lower back, neck and shoulders caused by the day job!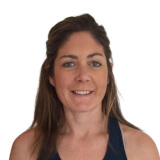 Georgie Brookes
Sports Massage Therapist
Georgie is an experienced massage and sports rehabilitation therapist. She has worked in a variety of settings including gyms, multidisciplinary clinics, and with professional sports teams. Georgie's sports massage involves helping people suffering from pain and injury as well as relieving day to day tension. She is passionate about getting individuals back to the sport or activity they love so can also provide patients with exercise rehabilitation alongside the massage to better achieve this.
Danielle Tysall-Blay
Sports Massage Therapist
Danielle qualified in sports massage in 2014 whilst studying Sports, Health & Exercise Science at Brunel University. She has experience working with people from all walks of life including desk based workers, labourers, marathon runners and even drivers at 24 hours of Les Mans. Being able to help people to stay active, whatever that looks like for them, is what Danielle really loves about being a Sports Massage Therapist.
We often say that as a therapy, sports massage as a title is highly deceiving as fundamentally you don't need to be playing sport or to have a sports injury to have a sports massage. When we compare sports massage to general massage there are a few key differences, the main one is pressure. Generally speaking a sports massage is focussed on working on the muscles to elicit change which often involves increased pressure. If we compare this to general massage the pressure will be slightly less as the focus is on relaxing the muscles and you! Sports massage is also great for those muscular niggles that could come from working from home at the dining room table or from hitting the gym. All in all, it is a treatment for all that is specific to your needs.
Keep up to date with our latest news.
Read what our patients have to say.
Such a pleasant experience all round. A friendly and relaxed atmosphere and Lachlan has helped me so much during our appointments! Thank you doesn't seem enough to express my gratitude 🙂
As soon as you arrive you get warm welcomed by the reception staff. Lachlan is an brilliant osteopath and he always make you feel welcome and puts you at ease and informs you what he is going to do He always seems to sort out my back I would highly recommended him Ian smith
I have been receiving excellent treatment on my frozen shoulder. Jodie and all staff are amazing. Miracle workers!!! Thank you very much
The team at the Health Hub are great! I'm having ongoing treatment with Kirk for an ankle injury I've now had surgery on. He was able to refer me to a great surgeon and supported me the whole way through that process. Since having surgery he has helped me with my rehab and created a tailored plan for my personal needs/goals. I've also had treatment with Tina and Sam who were equally brilliant. There's a running theme with everyone at the Health Hub; they take time to listen to you about your injury/issue and help you to get back to whatever it is that you want to do! I couldn't recommend the Health Hub enough!
I saw Kirk today regarding a very painful ankle. I found him to be very professional and has a very kind manner. I trust him to help me back to walking properly again soon.
Both myself and my son have been treated here, at the Health Hub. The staff are helpful and really friendly and the decor/ambience calming and professional. We have been treated by both Sam and Kirk – and both have been extremely helpful and knowledgeable, but also flexible and understanding. Kirk's physio has helped me to make huge progress and reduce daily discomfort/increase flexibility. He has a lovely manner and goes out of his way to put you at ease and help you to progress. I would thoroughly recommend the Health Hub.
I've been recommending Sam for years as he has done so much for my mobility. The Health Hub is a very welcoming environment and I enjoy my chats with Maggie – seem to learn something every time! With Covid-19 they are very thorough with their cleansing and wearing of PPE, so patients should feel very safe.
I highly recommend The Health Hub. The lady on reception is always very friendly and welcoming, and Elise has been excellent at assisting with my injury. The health hub has a very professional set up. It's simple to make appointments online, and when you re-book after your appointment, you're sent a text to confirm it. You also get a reminder a day or so before. As I say, highly recommend :0) 5*
Absolutely brilliant after having loads of treatment via the NHS that failed Sam sorted my shoulder out in very few visits. I would and do recommend this practise to all my friends.