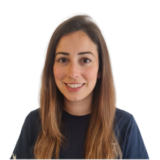 Chloe Issacs
Reflexology Therapist
Having qualified in 2010 following a foundation degree which covered Swedish Massage, Indian Head Massage, Deep Tissue Massage and Aromatherapy
Massage
. This included in-depth research into aromatherapy oils and their effects on the mind and body. Chloe has always had a passion for helping people and gets huge satisfaction out of using her treatments to help people feel relaxed and reinvigorated.
Read what our patients have to say.
Thank you for fixing my back after 6 months of working from home on a wooden kitchen chair! I've gone from having never seen a Chiropractor before to now making it a regular appointment.
I used to visit Tanya whilst she was working at the Heeler Centre, and was more than happy to continue using her excellent massage services when she moved to the Health Hub. The new venue is fantastic; welcoming, clean, great friendly staff and an excellent location. Of course, Tanya's therapy skills are the main reason for going. So much so, my partner has now changed to visiting Tanya at the Health Hub and is also highly delighted.
Highly recommend – Sam and Tina at the Health Hub have helped me enormously recently with a back problem and I have been so pleased with the results. Always a friendly smile and professional service at their practice
I've been seeing Sam for treatment for a long time (getting on for 15 years). He's managed to fix issues that allowed me to play rugby on weekends when I otherwise would have to miss out. While the issues he treats now aren't normally as debilitating, I feel better and more able to train once I've seen him. Sam will give you a honest opinion on the best course of action for your injury and will do what he can to get you pain free as quickly as possible. The reception staff are great and it's a friendly environment.
I see Sam (chiropractor) regularly and he offers a bespoke, caring open minded service. Not only is he highly skilled and professional but he is friendly and knowledgeable without judgement or up selling. Highly recommend. Ive also had a fantastic sports therapy massage from Tina and hope to book in for another soon. Gemma
Absolutely amazing. Cured my muscular lower back pains. Tina is absolutely amazing. Has also given me some great advice for avoidance and general health improvement. Very relaxing and friendly environment. Cannot recommend enough
State of the art new practice, with fantastic treatment rooms and highly skilled staff. Sam Pargeter treated my back and has made a huge difference. Highly recommended.
I couldn't recommend the Health Hub highly enough…I have been seeing Sam for a while and more recently Tina. During all of my visits I have been very impressed with the depth of knowledge on offer and the extremely professional treatments. The environment is very well presented and is very welcoming. Any issues I've visited with have been treated and resolved…I come away feeling brand new
The staff are all lovely, kind and helpful. Lachlan is an excellent osteopath and sorts out my tense muscles and clicking out hip every time. A medical appointment to look forward to! Highly recommended
Keep up to date with our latest news.
Book a Reflexology Appointment Today