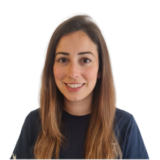 Chloe Issacs
Reflexology Therapist
Having qualified in 2010 following a foundation degree which covered Swedish Massage, Indian Head Massage, Deep Tissue Massage and Aromatherapy Massage. This included in depth research into aromatherapy oils and their effects on the mind and body. Chloe has always had a passion for helping people and gets huge satisfaction out of using her treatments to help people feel relaxed and reinvigorated.
Read what our patients have to say.
I have been receiving excellent treatment on my frozen shoulder. Jodie and all staff are amazing. Miracle workers!!! Thank you very much
The team at the Health Hub are great! I'm having ongoing treatment with Kirk for an ankle injury I've now had surgery on. He was able to refer me to a great surgeon and supported me the whole way through that process. Since having surgery he has helped me with my rehab and created a tailored plan for my personal needs/goals. I've also had treatment with Tina and Sam who were equally brilliant. There's a running theme with everyone at the Health Hub; they take time to listen to you about your injury/issue and help you to get back to whatever it is that you want to do! I couldn't recommend the Health Hub enough!
I saw Kirk today regarding a very painful ankle. I found him to be very professional and has a very kind manner. I trust him to help me back to walking properly again soon.
Both myself and my son have been treated here, at the Health Hub. The staff are helpful and really friendly and the decor/ambience calming and professional. We have been treated by both Sam and Kirk – and both have been extremely helpful and knowledgeable, but also flexible and understanding. Kirk's physio has helped me to make huge progress and reduce daily discomfort/increase flexibility. He has a lovely manner and goes out of his way to put you at ease and help you to progress. I would thoroughly recommend the Health Hub.
I've been recommending Sam for years as he has done so much for my mobility. The Health Hub is a very welcoming environment and I enjoy my chats with Maggie – seem to learn something every time! With Covid-19 they are very thorough with their cleansing and wearing of PPE, so patients should feel very safe.
I highly recommend The Health Hub. The lady on reception is always very friendly and welcoming, and Elise has been excellent at assisting with my injury. The health hub has a very professional set up. It's simple to make appointments online, and when you re-book after your appointment, you're sent a text to confirm it. You also get a reminder a day or so before. As I say, highly recommend :0) 5*
Absolutely brilliant after having loads of treatment via the NHS that failed Sam sorted my shoulder out in very few visits. I would and do recommend this practise to all my friends.
Incredibly thorough care and treatment in terms of identifying my issues and preparing an exercise regime that was updated ahead of appointments. Health Hub have gotten me on the right track to recovery.
Sam is so knowledgeable, reassuring, professional and effective with his treatment & advice – highly recommend The Health Hub
Keep up to date with our latest news.
Book a Reflexology Appointment Today