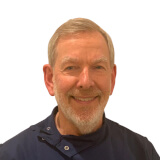 Lachlan Beveridge
Osteopath
Lachlan has been practicing as a Registered Osteopath for 20 years having studied at the European School of Osteopathy in Maidstone, Kent. He has worked with a variety of patients having spent 15 years in London at a well-known yoga centre as well as practicing locally at The Heeler Centre for 7 years.
Lachlan particularly enjoys treating lower back pain, neck pain and headaches. Lachlan uses a number to treatment techniques to achieve optimal results and will often use spinal manipulation as a way to enhance patient outcomes. With NICE now listing this as the preferred treatment for lower back pain.
Patients have reported relief from –
Lower back pain
Neck pain
Headaches
Sciatic pain
Knee pain
Hip pain
The History of Osteopathy
Osteopathy was founded in the late 1800s by physician and surgeon Andrew Taylor Still in Kirksville, Missouri. The son of a surgeon, Still soon discovered that in order to achieve the highest possible form of health, all parts of the body should work together harmoniously. His goal was to restore the body to optimum health with minimal surgery and medicine, influenced in part by the realisation that medical treatments of that time were largely ineffective and, in some cases, harmful. Over time, he treated patients with a wide range of conditions, from dysentery to sciatica and arthritis, with varying results he gained a reputation as an effective practitioner. In essence Osteopathy was a more holistic approach looking at the whole body and not specifically spinal focussed like chiropractic.
Just like Chiropractic, Osteopaths are degree qualified and are required to complete regular training to ensure they are able to offer the best and latest treatment methods to all patients.
Keep up to date with our latest news.
Read what our patients have to say.
I saw Kirk today regarding a very painful ankle. I found him to be very professional and has a very kind manner. I trust him to help me back to walking properly again soon.
Both myself and my son have been treated here, at the Health Hub. The staff are helpful and really friendly and the decor/ambience calming and professional. We have been treated by both Sam and Kirk – and both have been extremely helpful and knowledgeable, but also flexible and understanding. Kirk's physio has helped me to make huge progress and reduce daily discomfort/increase flexibility. He has a lovely manner and goes out of his way to put you at ease and help you to progress. I would thoroughly recommend the Health Hub.
I've been recommending Sam for years as he has done so much for my mobility. The Health Hub is a very welcoming environment and I enjoy my chats with Maggie – seem to learn something every time! With Covid-19 they are very thorough with their cleansing and wearing of PPE, so patients should feel very safe.
I highly recommend The Health Hub. The lady on reception is always very friendly and welcoming, and Elise has been excellent at assisting with my injury. The health hub has a very professional set up. It's simple to make appointments online, and when you re-book after your appointment, you're sent a text to confirm it. You also get a reminder a day or so before. As I say, highly recommend :0) 5*
Absolutely brilliant after having loads of treatment via the NHS that failed Sam sorted my shoulder out in very few visits. I would and do recommend this practise to all my friends.
Incredibly thorough care and treatment in terms of identifying my issues and preparing an exercise regime that was updated ahead of appointments. Health Hub have gotten me on the right track to recovery.
Sam is so knowledgeable, reassuring, professional and effective with his treatment & advice – highly recommend The Health Hub
Very professional business.Excellent facilities and lovely people who know what they are doing. Highly recommend.
Sam, Jodie and the team from the Health Hub are amazing. I couldn't recommend them highly enough.