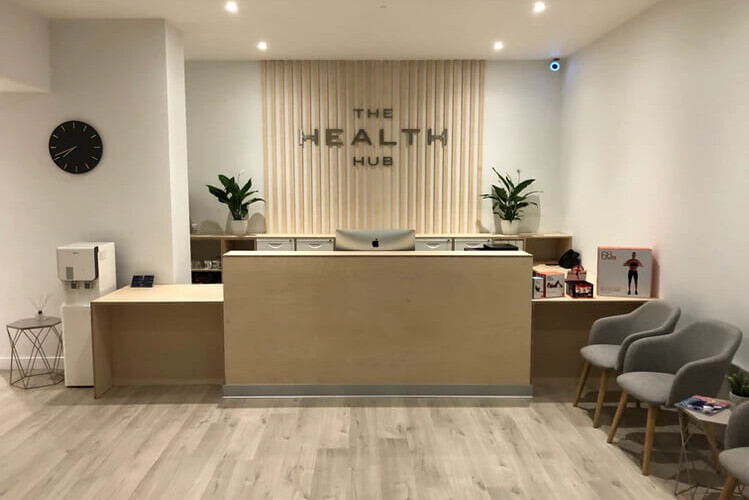 As they say, when one door closes another one opens…
We had always planned on taking over our previous practice, we felt it was simply a waiting game but, like all great plans, it doesn't always work out as you thought and when it became clear that buying the practice wasn't going to be an option, we had to make a decision. Should we stay where we were indefinite, with no guarantee of ever truly owning it, or follow our dreams?
Now I have never been one to believe in fate but as luck would have it, around the time we were told that our previous practice wasn't for sale, the Health Hub premises came to the market. We made the decision to go for it and at the end of November 2019 we got the keys… although it looked a little different to how it does now!
It has been said that I like a plan(!), so as you can imagine poor Jodie was subjected to endless sketches and lists. At this point, I do need to highlight just how much of a superstar Jodie was, as during all of this she was heavily pregnant and still working flat out at our old practice. Something I have since been told isn't the ideal run-up to giving birth. Who knew?! That said we finally settled on a design with one catch, we had to create it.
Thankfully we have a very good friend in the building trade who helped our vision come to life! On-site, my role was largely to get in the way, make tea and fix any sore necks following hours of plaster-boarding. Thanks to Dave and the team in 6 weeks, as it only seemed fair to let them have Christmas off, the premises were transformed from what you have just seen, to this…
So now we had the clinic of our dreams, with 6 shiny new rooms, and only the two of us to fill them. Clearly, we needed a TEAM. Thankfully a number of members of our previous practice made the decision to join us as well as a few great new additions. Finally, we were all set and we opened our doors on the 3rd of February 2020.
A lot of people have asked how has it been with a start-up during the pandemic but, in all honesty, we don't see The Health Hub as a start-up as most of us have been working together for over 5 years. Instead, we simply see it as a new location where we are carrying on our passion for helping people.
On that note, we look forward to seeing you soon!
Sam, Jodie and the rest of the TEAM
P.S. If you are looking for a builder and would like Dave's number, just ask!